This is the first post of our site's blog, where we'll be looking at various different aspects of AAC.
When we launched the site in October, we were supported brilliantly by various people who use AAC and who agreed to give us their views. Some of these featured in the media, but we wanted to bring together their stories here in full, since they express the importance of AAC far better than anyone else could.
We hope you find what they have to say useful and interesting.
Rachael Monk
Rachael, who has cerebral palsy, is 31 and from Dumfries and Galloway.
"My communication aid has made a huge difference to my quality of life. It allows me to convey my thoughts, feelings and opinions. I can voice concerns, make choices, tell jokes, and chat with friends, like anybody should be able to do. I attended college and obtained an A level in Fine Arts, I have given speeches at conferences, and I am able to speak up in important meetings. Without my communication aid, I would not be able to do any of this or express exactly what I wanted to say."
Gavin Drysdale
Gavin, who is 13 and from Ayrshire, has motor difficulties. He competes in the relatively new, but fast-growing, international disability sport of RaceRunning and competed at the IWAS Junior World Games at Stoke Mandeville in August 2014, winning the 100m, 200m, 400m and 800m races in new world record times. Gavin was also a baton bearer for the Commonwealth Games in Glasgow.
"I first got an AAC device when I was about four and straight away it benefited me massively. It enabled me to interact with my class mates at school right from Primary One. It allows me to communicate on a daily basis with people who don't know the Makaton sign language that I use.
"If I didn't have my AAC device, I wouldn't be able to chat to other people or get my ideas and views across, and I would feel isolated and lost. It has taken a while for people to realise that I do need extra time to get across what I want to say, but I am getting there."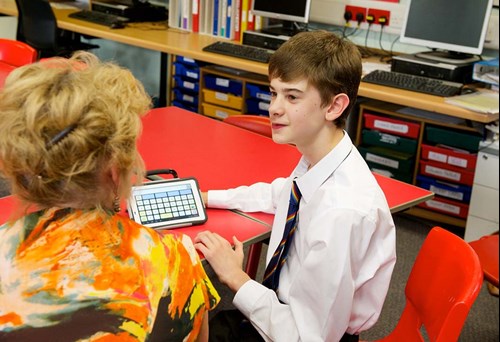 Euan Macdonald
Euan, from Edinburgh, was 29 years old when he was diagnosed with motor neurone disease (MND) in 2003. He and his father helped to establish the Euan Macdonald Centre for MND research at the University of Edinburgh. He also founded the award-winning Euan's Guide, a website with impartial, user-generated accessibility reviews and recommendations for venues.
"Communication is an absolute necessity. For me it is the difference between having quality of life and not. My communication device allows me to lead a normal life – I can email, send text messages, use the internet, use Skype and Facebook, and of course I can hold conversations. Unfortunately not everyone can get the communication device they need, particularly for those needing to use eye gaze technology like I do. I hope this campaign can help change that."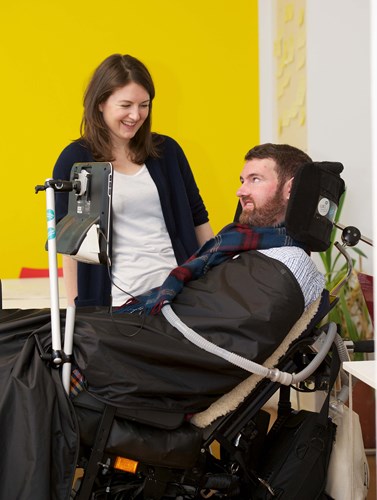 Alex Macdonald
Alex, who is 16 and is from Hawick, has an undiagnosed syndrome and is on the autistic spectrum. He has always had no speech. Alex attends a special school in Newcastle (Percy Hedley). His experience of AAC has included simple sign language, communication books, specific speech aid devices and now tablets. Although he has had learning difficulties he does not have the same physical issues that many other users of AAC have.
"People don't understand me unless I use my iPad or Windows tablets, but I also like using them because I can play games, look up YouTube and do other things that help me socialise with friends and others. It would really help me if there was wider acceptance of this as a method of communication with people allowing me to take the time that I need to 'speak'. Tablets can't make up completely for the voice that I don't have but they are very much part of my life and how I interact with the world around me."
Alex's mum Gillie said: "We just don't know why Alex can't speak but in actual fact he is a very good communicator and will be very inventive in order to get his message across! This highlights the need for a total communication approach for someone with AAC needs rather than thinking that one device can replace a voice, as it doesn't and never will. The fact that he is fully mobile has often been an issue too, because many AAC devices are designed for wheelchair mounting and don't reflect the needs of a teenage boy, although the advent of tablets has helped to overcome that."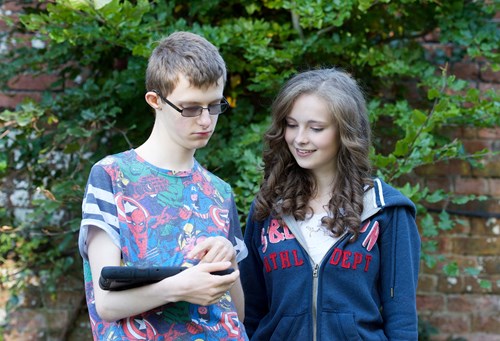 Eddie Gasowski
Eddie, who is 65 and from Dundee, has aphasia caused by a stroke. At the time of his stroke, 16 years ago, he was a principal teacher of Technical Subjects in a secondary school. Eddie has many roles in life: husband, father, gardener, runner, fundraiser, furniture maker, baker, photographer, befriender, research participant and campaigner to break down barriers for people with communication disabilities. For a number of years after his stroke Eddie undertook voluntary work at the school where he had been a teacher, for which he received a volunteer award, and also in the Mackinnon Centre in Broughty Ferry.
Eddie's wife Alison Gasowska said: "For many years Eddie used a low-tech communication book along with little bits of speech, gestures and other non-verbal signals to get his message across. Three years ago he was introduced to an iPad and it has transformed his ability to communicate. He still lives a very active life and the device makes it easier for him to do everything from ordering a coffee to raising money for charity."