AAC online learning modules are now live on TURAS
Posted on 04/04/2019
As part of a Right to Speak, Scottish Government funding was allocated to NES to deliver an AAC programme of work, part of which was to help deliver an education, training and development programme.
The first in a series of online learning modules, "An Introduction to AAC", has now gone live on the new NES learning platform, TURAS.
These Scottish Government funded modules, commissioned by NES and developed by CALL Scotland, are designed for universal uptake by anyone, and are aimed at the broader health, social care and education workforces who may come into contact with people who need and use communication equipment. Members of the public can also register and access these modules.
To access the modules you are required to be registered and signed in to your account - TURAS Learn website - https://learn.nes.nhs.scot/ To register scroll to the bottom of that page and create an account at "register". See the screen shot examples below of what you can expect to see when you visit the https://learn.nes.nhs.scot/  website.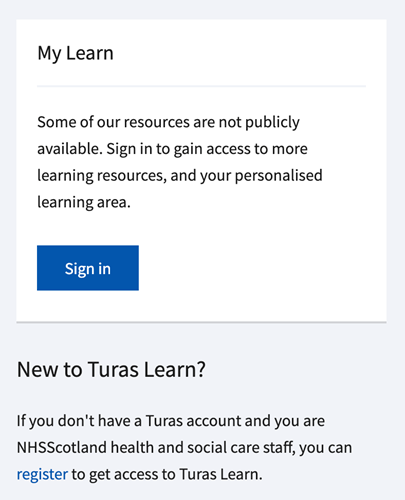 To locate the modules enter into the "search" box the terms :

Augmentative and alternative communication
Work is ongoing to make further modules available on TURAS later in the year, aimed at services, teams or individuals to review their current knowledge, support the development of best practice, and to ensure positive outcomes for people who use AAC.